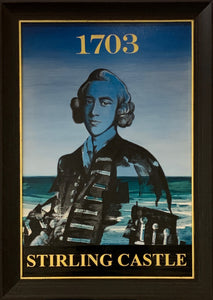 Stirling Castle
By Vendor
Original mixed media


Loren Beven
Screen print, gold leaf and acrylic on aluminium
Image 75 x 50cm // Framed 85 x 60cm
STIRLING CASTLE | 27 November 1703
Stirling Castle was sailing under Captain Bruce when it was wrecked in the great storm of 1703. She dragged her anchor, slowing the ship's progress so that she reached the Sands at high tide and narrowly avoided being grounded. As the storm continued, the tides turned and dragged the ship sideways, trapping her between the new tidal currents and the oncoming storms. The resulting tumultuous seas swamped the ship. Full of water, she sank, leaving just the stern exposed for a fortunate few to cling to.
PROJECT WRECKED
The slightly spooky history of the Goodwin Sands has always fascinated me. The sheer number of ships wrecked in this maritime graveyard is astounding.
My work for this exhibition, Wrecked, is a collection of imagined ghost portraits of captains of ships sunk on the sands reimagined as pub signs, a nod to the sheer number of pubs Deal town supported in the past. I found the names of the ships and the date they sank using Lloyds list and gilded them in large letters at the top and bottom of each piece. Using artistic licence, I reworked naval portraits of the time each ship sank, into Warholesque prints – transparent, frayed and ghost-like. I then painted seascapes on aluminium and screen printed each portrait on top the paintings. The works reference both our fascination with the past and the ship as a symbol of economic development and the nation state.
Sale price

$959.96

Regular price
Payment by instalment
Make it easier to have that piece of work that simply must hang on your wall.
We offer a simple scheme that allows you to buy art now and not miss out on that one thing you so desperately want.
Make a 20% deposit and then pay the remaining amount off over 12 months by direct debit. Not only does this mean you won't lose that unique piece of art to another buyer - but it will also protect you against the artist's prices going up whilst you try and save to buy it.
Adding artwork to your order
Use left/right arrows to navigate the slideshow or swipe left/right if using a mobile device